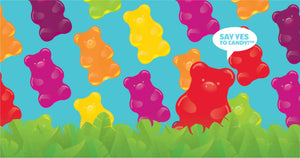 mybetterbears.com
Better Bears are evolving candy beyond sugar and artificial ingredients into something better that's nearly indistinguishable from traditional, full sugar candy. Their plant-based candy is low in sugar and calories, and high in fibre and flavors.
"They not only created a fun brand-centric website but also made suggestions around ecommerce flow, and ideas to help Better Bears appeal to our demographic"
Garrett Downes – President, Candyverse Brands Inc
Better Bears Gummyzine
Shopify blogs are not know for their flexibility. We turned that on it's head by building out the blog to create a vibrant, engaging magazine experience for young adults and children.
"Kerrin understood how to translate our brand so that our target customer would be engaged with our products. Overall, working with Elevatr, and Kerrin, was smooth and our Shopify offering is much improved."
Garrett Downes – President, Candyverse Brands Inc
Site Design and Build
Working from your brand strategy, we'll target your demographic with a beautifully designed and branded Shopify site that generates sales and builds customer relationships.
View more of our work
We are fortunate to work with clients across a wide range of industries. See more of our work or if you'd like to chat about your project then drop us a line. We'd love to hear from you!